Apollo Liquidity is a portfolio of managed accounts structured using an original methodology and designed to produce resilient performance with limited
drawdown risk.
The portfolio aims to provide low correlations and stable returns through our rigorous portfolio construction process. Our focus is on controlling risk, particularly drawdown, by combining risk factor exposure to take advantage of style diversification.
The αpolloTM liquidity process combines:
Top Down reference portfolio construction based on hedge fund style analysis
Bottom up manager selection based on style attribution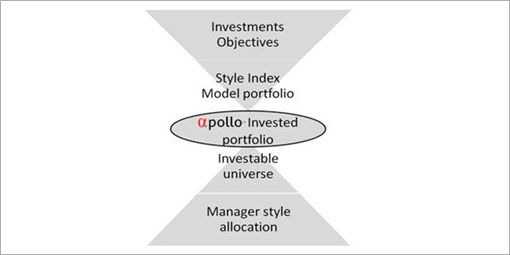 This process is designed to deliver:
A lower risk profile, every step of the way, in order to generate more stable returns
Low correlation to major markets
Resilience to crisis and unforeseen market events
Consistent performance
Low volatility, low correlation
Superior risk/return profile
To find out more, please get in touch to request an information pack or latest fund fact sheet.